Brustibin attended its first ever Ploughing Championships this year, and as can be seen was in serious training before the event!
Organisers, exhibitors and attendees alike, agreed that while it was a wash out on Day 2, Days 1 & 3 were overwhelming successes.
The Brustibin marquee was the focus of much attention with visitors attracted by the banner which rightly claimed that Brustibin is  "The Kitchen Bin that Saves You Hassle". Some interesting feedback was received from visitors in relation to waste collections in their areas, and it was surprising to hear from the a large contingent who said that they did not have a brown bin, nor had they been offered one. It was also interesting to learn that they had not had any commincations either from the Local Authorities, the Waste Enforcement Regulatory Authorities or their Waste Service Providers, informing them that it is now mandatory to have a Brown Bin for Biowaste or Food Waste.
It was however very uplifting to hear the majority of visitors to the stand stating that they wanted to do the right thing in relation to waste segregation.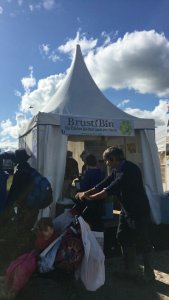 However they felt that their efforts are in vain due to the lack of encouragement and  enforcement by the powers that be and the waste collectors.
The lack of public awareness and education on waste segregation was unfortunately very evident. And it was disheartening to find that the Brustibin stand was the only source of information that a large number of attendees had ever received on waste segregation and recycling.
The attendess also shared with us on the day some of the activities which their waste service providers are practicing and which should be of concern to the Regulatory Authorites. But  enough about that until another day.
Well done to Anna May and the NPA, and hopefully the gods will smile more kindly with the weather next year. In the meantime to all of those who we met at the Brutibin marque, we thank you for visiting us, and we hope that we have helped you to better understand waste segregation and recycling. A task which we had been led to believe was being looked after by the Department, the Local Authorities et. al !
http://brustibin.co.uk/wp-content/uploads/ploughing-2017-1.jpg
667
375
admin
http://brustibin.co.uk/wp-content/uploads/LOGO-transparent.png
admin
2017-09-29 17:45:16
2017-12-05 16:55:46
Brustibin's Debut at the 2017 Ploughing Championships